Zuckaverse
The reaction to Facebook's rebrand to Meta was somewhat surprising. So many people apparently horrified that some digital panopticon might be created in which an evil billionaire megalomaniac controls the world.
Where has everyone been? This already happened 10 years ago. Facebook has nearly two billion daily users and three billion per month. That is basically the whole world. One person already controls what they see, how they interact and they are all totally addicted to it. That single platform has a huge impact on election outcomes. Trump used it to his advantage in 2016 leaving less organised opponents flat footed and then it was turned against him four years later. So, why the horror?
The even more mentally corrosive Instagram has a billion active users itself. Mostly people posing in front of situations that don't actually exist, you know, like a metaverse.
The idea of simulated computer environments is actually very old. Computer scientist Alan Turing was aware nearly 100 years ago that the ultimate computer would be able to simulate any possible environment, the concept is known as the Universal Turing Machine. In theory, the universal machine can simulate any other Turing Machine (itself a simulator) and so, could simulate everything there is or could be.
All we are witnessing here is the progress toward that ultimate goal of computing, which we will likely never reach, but the idea isn't new. Aren't we going to at least be a bit grateful that someone is putting billions and billions of dollars into pushing forward the boundaries of technology? We should be, not least because there are many applications of this technology that will seriously improve lives.
As far as branding goes, I like Meta too. It's neat and clean and could be used for the prefix for everything Zuckerberg tries to do. The idea that he is in some way trying to monetise the whole globe for his own benefit I don't really buy. I doubt he ever thinks about money at all. For him it's about building things that are better, progressing towards ideas that have been laid down by the great computer scientists of the past.
The potential for this sort of technology is significant and transformational. Fair enough, some of his platforms have launched a form of narcissism that we could do without but that doesn't mean they can't become better.
With our fund in mind, digital assets were identified as something that Meta intend to support as they build out their technology. Right now, that means nothing, but it is clear that digitally native assets are here to stay.
The consensus view appeared to be this image.
For me that is too negative. No doubt there will be people disenfranchised by new technology, but where is the ambition? Where is the excitement? Imagine going to school and learning about planets with a headset on, while apparently floating around the planets in class. The applications in medical science are also enormous.
More importantly perhaps, this might also give billions of people access to the sort of knowledge they don't currently have.
It's just too easy to start bashing billionaires who are prepared to go public with massive visions for the future. We need these people. Here's another example.
Prince William criticising Jeff Bezos? The guy basically halved the price of knowledge with Amazon. He made books cheap. Remember? He made books cheap, on his own.
If he wants to go to space, then good for him. What's more, good for all of us.
---
Wobble
Heavy selling indeed. Note the most punished of all is the Australian market, where short term bond yields jumped from 0.1% to 0.7%. The RBA has taken a slightly different approach to the pandemic support than other banks across the world using yield curve control. They committed to a 10bps yield for Australian 2024 government bonds.
The bond market decided that they didn't believe the RBA given the acceleration in inflation and a brutal repricing followed late in the week, in time for Tuesday's rate announcement.
You read that correctly. To make good on the policy, the RBA would have had to buy every single bond in the line.
I consider that remarkable, although the reaction in the financial press was pretty mute. It shouldn't be, I think this is the first in a long line of bonds that simply cannot catch a bid.
It's also a very good reminder that long term interest rates are not set by the government or civil servants at the central bank. There is absolutely nothing they can do when the market demands more, as it did on Friday. The general perception is that whatever the RBA decrees is law. Not so, they can set the overnight rate, but they cannot set long term interest rates; the market sets them. It really was a savage reminder and the RBA's capitulation was immediate (and sensible).
Interesting that the first instance of punishment has been dealt out to Australia. Most other countries are not using yield curve control, they are simply buying bonds to keep rates within a target range. We can see the reason why such rigid policies are dangerous, because you can get forced into a corner.
Not a good week for the Reserve Bank of Australia. At least they ate their humble pie and didn't make it worse, credit to them for that. I imagine the losses they are now sitting on with 2024 bonds are substantial. In America, this is called getting handed your ass.
---
CommBank
Over the road at CommBank, better news. It seems next week CBA will announce that users of their app will now be able to buy bitcoin directly inside their banking application. We will wait for details but interesting that it looks like it will be in the banking app and not operated by the broking arm CommSec.
I suspect this will be a very significant moment for the legitimisation of bitcoin in Australia.
The go live date will be some time next year but if this keeps happening across banking globally, things will get very interesting very quickly.
As bitcoin becomes more and more distributed, it will become less and less compelling for politicians to act against it.
---
COP26
There continues to be regular criticism of bitcoin's power consumption. That has remained true even though it is now well established that over 50% of that power is provided by entirely renewable, and very often, wasted energy.
The search in bitcoin is for efficiency. Power must be delivered at the very lowest cost in the most efficient way and there is all manner of innovation across the globe to deliver these solutions.
With that in mind, the leaders of the world are gathering in Scotland to discuss cuts to emissions. Fair to say efficiency wasn't front and centre as they arrived though. Above we have an unknown climate activist arriving in a Gulfstream. An excellent choice.
Sensibly, the Monaco Royal family arrived under the cover of darkness at Edinburgh airport. They selected a Dassault Falcon 8X for their arrival which uses a modest 350 gallons of fuel per hour.
The German and French leaders opted for private Airbus A380 arrivals. I think that's appropriate because to trump the billionaire Gulfstreams, you really need to make a statement in a plane that can carry a small town of people and all their luggage.
The train, it would be fair to say, was a realistic option for both of them.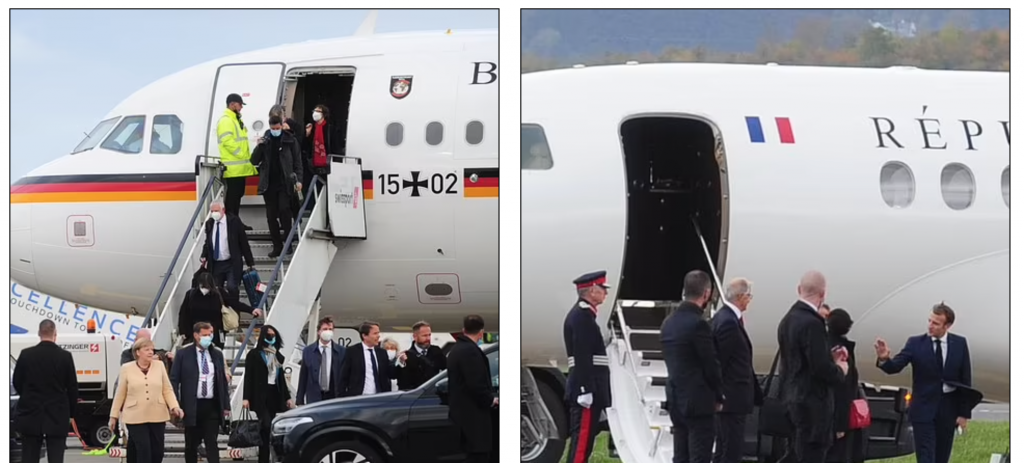 In total, over 400 private jets landed in Scotland for the event. Prestwick airport was overwhelmed and most of the aircraft had to fly on and park elsewhere across Scotland.
No doubt the meetings are valuable and urgent. It doesn't really matter how they all arrived at them either, provided they do deliver actual solutions, not bans.
There is unlimited energy in the universe, capturing it and harnessing it efficiently and non-destructively is to push the frontier of humanity forward.
We believe the technology we invest in is part of that solution.
---
Euro-Trash
Agent Lagarde has been busy writing letters to Members of the European Parliament. This one asking about digital currencies and a digital Euro. She seems unimpressed.
"So called" cryptocurrencies are not fit to serve Europeans as an alternative to the Euro.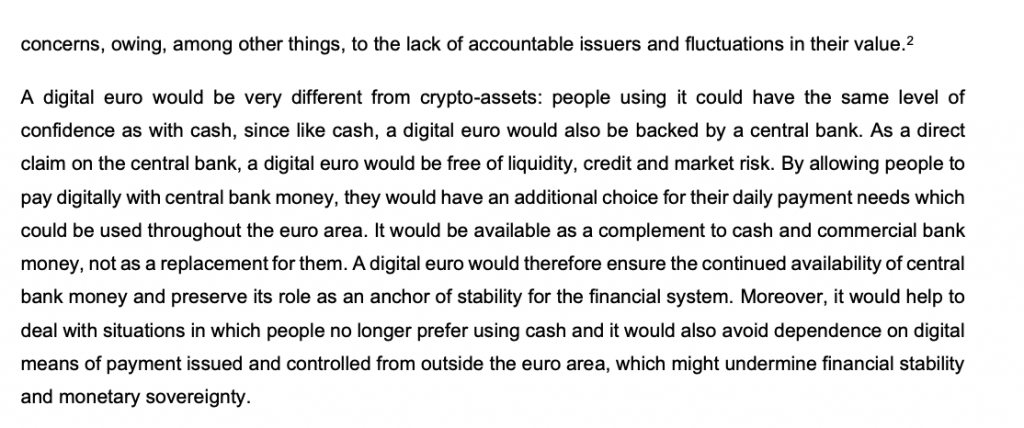 People will love the digital Euro and will have: "The same level as confidence as they do in cash"
Which, of course, loses about 20% of its value every year in Europe these days.
---