Crash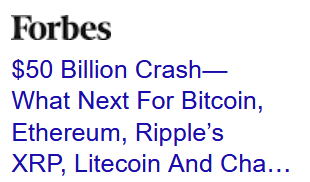 Bitcoin has crashed by $50 billion. Actually, this headline was Friday last week and bitcoin has since recovered to be exactly where it was before it "crashed".
A good reminder though that bitcoin will, and has, dipped many times along the road.
It has dropped by 85% more than 5 times since it launched in 2009
During the last halving epoch bitcoin went on a strong run. So strong that it rose by an order of magnitude, it still managed to drop 30% 5 times while doing it.
Bitcoin trades 24/7, more than FX and far more than stocks. There are no circuit breakers, no pauses. That's the power of the protocol but it will test your nerves.
The best advice I can give is to keep on checking the price but only once every four years. To illustrate the point, here is a bitcoin chart with four year candles representing the halving cycles. The final candle being the 6 months since May this year.
---
KYC
One of the things that caused the dip in bitcoin last week was the announcement by the Coinbase CEO that the US Treasury was considering cracking down on what are known as custodial wallets. That is, holding your own bitcoin.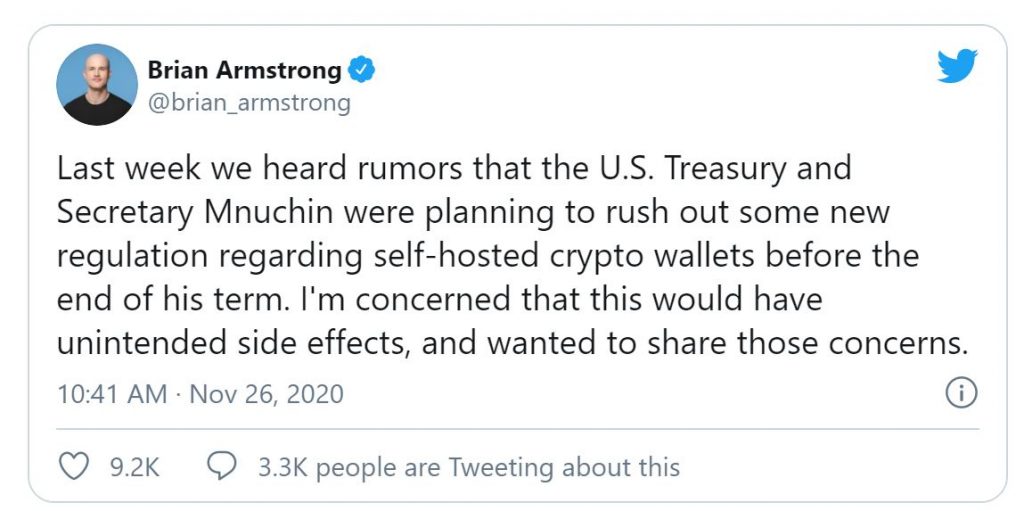 In effect, it is proposed is that if you wish to take custody of your own bitcoins then there may be further ID requirements before you can do so, essentially so that the government will know who owns bitcoin.
This announcement caused huge concern among hard core bitcoiners who consider that the whole point of bitcoin is to be sovereign wealth and not really the business of the government.
There are several ways of looking at this. One is that this is hugely negative, since owning bitcoin will become exactly like owning any other asset and people imagine scenarios where they send bitcoins from their wallet and the tax office rings to ask why and where they went to.
To be fair, wholly less than ideal.
Another thought might be this. As far as banning bitcoin is concerned the white flag of surrender just went up the pole. The United States government is saying, bitcoin you win, you can survive but you will need to play on a level playing field. The government knows all bondholders, since bearer bonds were outlawed in the 80s. The government knows who owns which equities through shareholder registers. Now they want to know who owns bitcoin.
In fact this non-custodial approach is exactly what PayPal provides. You can buy bitcoin on PayPal but you cannot take actual custody of the asset, all you can do is buy them, hold them or sell them.
Should a US Bitcoin ETF ever be approved it will operate exactly in this way, you can hold the ETF but not the underlying asset. It's quite possible that all this KYC and blessing PayPal is part of the roadmap to that ETF.
Pretty soon the Grayscale Bitcoin Trust will hit $10 billion under management. The SEC is letting investors buy into this sometimes at a 30% premium to the underlying asset value in the fund, it is becoming embarrassing. The US needs a bitcoin ETF.
While this announcement was disappointing for die hard bitcoiners living in America, the rest of the world (95% of the global population) carries on as normal. We will all hugely benefit from a US Bitcoin ETF and if the road is being cleared for one, the sooner the better as far as we are concerned.
---
Neera Tanden
No idea? Me neither. She has just been nominated by Joe Biden to the Office of Management and Budget. An executive office of the President that directs traffic across all other agencies so they follow the President's line when setting the budget.
In short, she will be powerful and will have a big say in what and how much is spent. It has been described as another "centrist" addition to Biden's economic team. Here she is acknowledging her nomination.

Full marks on the climb to the top and full marks for the admirable sentiments, but her ambitions will not be cheap and at the last count, there was no money.
Stepping back, we now have Powell at the Fed, Yellen as Treasury Secretary and a new spender, Tanden at the OMB. I'm not sure it fits the definition of centrist. In fact, I don't think the Politburo could have done much better.
You might now be starting to see why our funds had a preference for Joe Biden. Let the printing begin.
---
Coins on exchanges
An update on a chart I shared recently from bitcoin analyst Willy Woo. The different colours represent the bitcoin holdings at major exchanges worldwide. The fall in these inventories is now at unprecedented levels. In 10 months this year they have dropped by 19%. I wouldn't call it a serious supply shortage yet but if we get below two million coins (2000k on the left which was the level in January 18), look out.
I suggest this is the chart to watch for the next 12 months. We might have hedge funds, PayPal, Grayscale, Square and all the major exchanges attempting to be net buyers at the same time. In fact, I expect that to happen.
Two million bitcoins is around US$40 billion. The United States Government spends that much every three days and this year they have borrowed that much every five days.
It's getting tight.
---
Doublespeak at the ECB
"We want to use digital transformation for banking supervision and to design technology that can be used worldwide"
Imagine being in the middle of a worldwide digital transformation and wanting to use it to spy on people. The ECB would deny this, they would say "efficiencies".
The European Central Bank was formed some 22 years ago and to date they have designed absolutely nothing of value, even the Euro wasn't theirs, rather a gift from some over-reaching politicians.
They actually pay teams of people to come up with this stuff. Whose idea was it that they are going to "design a supervisory system that can be used worldwide"?Like where? In China? Oh yes, could someone tell President Xi we're going to use Christine's new software.
How about America? I think not. After all, they renamed French Fries, so I doubt very much they are keen to log onto to some all seeing banking application coded in French.
How is there such a thing as a Supervision Innovators Conference?
The agenda for the conference is here, please do take a look. It reads like something from a dystopian novel.
In particular I was very sad to miss the session on "How machine learning tools can support banking supervisors?" or indeed the post croissant gathering on "How banking supervision can benefit from natural language processing tools?"
If I'd made this up, it simply would not be believed.
---