The Levels
Back in August we wrote about
"The Levels"
. The various barriers that the bitcoin would face on its journey, one of the more significant being the US$13,800 barrier.
"Again, based on long and short selling their is a great deal of potential activity at $13,800. This is roughly the 90 day average price around the last top in late 2017. A good number of smaller players will hand over their bitcoin at these prices and move on to Kodak stock."
On Wednesday we briefly hit US$13,800 before pulling back quite sharply. It is a very significant number to a lot of retail investors who bought late in the 2017 rally. They will be delighted to sell their bitcoin and break even.
Exactly in the same way the did the wrong thing in 2017, they are doing it again now and consequently we might be here for a while as people hand over their bitcoin to the institutions who are now mopping up supply.
In the meantime, Kodak is down 80% from its August 2020 high.
---
The New Frontier
I was told by a potential investor this week that Bitcoin was "a bit too close to the frontier for me."
Perhaps four years ago that was true and I respect that for many people this remains the case today. I have to tell you though, the frontier has moved far beyond bitcoin.
The real frontier is the digital land grab akin to 19th century America. It's not just bitcoin, people are buying land in a virtual world known as decentraland. It has its own currency (obviously) and you can buy and sell assets from other participants, start businesses and do many of the things you can in a normal reality.
Inside video games and e-sports we are likely to see many in-game currencies over the next few years, including bitcoin. Given it is programmable money, it lends itself so much more to virtual environments than fiat. In game trade will be absolutely huge and  will likely exceed most countries international trade figures. For better or worse huge cohorts of the world, particularly young men, will live in these virtual realities.
As an example, the majority of conference's in bitcoin now take place in virtual reality. With the VR Headset on, almost nothing is lost and there is considerable gain time and money. If you think your conferences are coming back, I don't see it. Just like the pandemic revealed to employers that 50% of their staff did absolutely nothing, it also revealed conferences are a waste of time and money.
Everyone is going back to work post pandemic? No, they aren't. The old order is shaking, technology is eating your lunch, the tax base is dieing and big tech companies are more important than most countries. Let's face it, more people rely on Google than they do on their own government. It's worth pointing out that whatever you think of them, Google and Amazon didn't let us down when several billion people all decided to work from home at 24 hours notice.
The old banking order is creaking too and the fiat system with it.
Owning bitcoin is just the beginning. Buy some, then head out West and see what you find.
---
Banning bitcoin
Look closely at the image of a bitcoin block and you will see the difficulty of banning bitcoin, it is simply a string of numbers and letters. Very similar to trying to ban language or information, you can't.
In the discussion of risks related to investing, a ban comes up a lot. Periodically, governments around the world have "banned bitcoin". Actually what they do is ban the exchange of their own currency for bitcoin. They do not (because they cannot) ban bitcoin. Indeed taking action like that potentially cedes ground to other competitor countries who are potentially more amenable to new technology.
I believe we are seeing this play out between America and China. China dominated bitcoin mining for the first decade of its existence but the US is catching up fast. Power is cheap in America and miners are growing fast as a result. Throw in the PayPal news and you have to assume that Uncle Sam can't beat them, so he's joining them. He will plan on winning too.
The whole banning discussion is much like the Five Eyes governments demanding big companies enable encryption back doors for platforms like WhatsApp. It simply doesn't work.
"tech companies should include mechanisms in the design of their encrypted products and services whereby governments, acting with appropriate legal authority, can gain access to data in a readable and usable format. Those companies should also embed the safety of their users in their system designs, enabling them to take action against illegal content."
Unfortunately for governments encrypted systems are absolute, that is a matter of mathematical fact. The moment you introduce a "back door" whatever is encrypted is not encrypted anymore. It really just becomes a password someone else either has or can reset, that is not encryption.
Governments lost the battle against encryption some time ago. Until 1992 it was on the statute book in the US an auxiliary military weapon that could not be exported. They fought long and hard to protect it through the 70's and 80's because they knew full well how powerful the weapon was.
It's one genie that is never going back in the bottle.
---
The halving
I found this diagrammatic representation of a bitcoin halving rather helpful. Taken from @Croesus_BTC.
Firstly, we have the situation prior to the halving in May this year. Demand and supply roughly matching.
Immediately after the having new bitcoin supply drops by 50% but as a proportion of the available for sale pool, it is quite a small effect.
Demand has remained the same, with supply now smaller the monthly excess eats into the available for sale pool.
6 months in (roughly where we are now). The supply deficit is causing a rising price.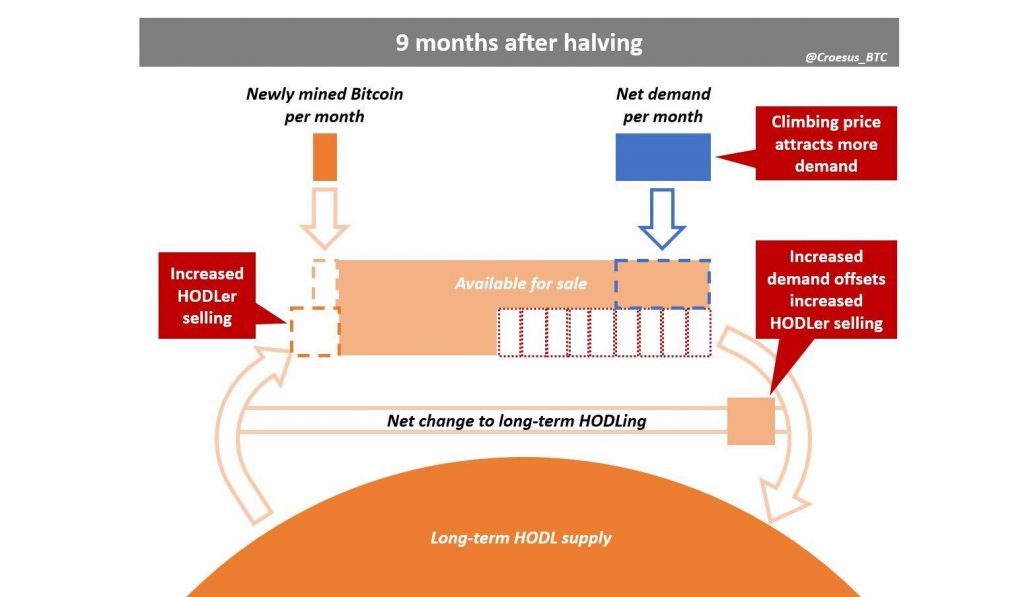 9 months in (this would be next January in theory) and demand rises again but selling increases also.
A year post halving and the full supply effect is being felt. Price is rising causing rising demand, causing holders not to sell also.
Overall, I think a good illustration of the demand and supply metrics. Take it with a pinch of salt though because while over time this will likely have some truth to it, don't hang your hat on the timings and be ready for sharp dips while the whole pattern plays out.
One counter argument that has been put forward is that if it is so simple it would be priced in. Everyone knows that the the supply halves every year. Indeed, the timing of halvings can be predicted with with great accuracy at least four years out, so the price ought to reflect that.
To prove this I went to buy a cup of coffee and asked ten people when the next bitcoin halving was and what would happen to supply.
"Everyone knows"………..Actually, not one of them did.
---
Euro Trash
It's time for our quarterly update on the Euro v USD v Bitcoin.
As I said in July that I'm surprised just how well the Euro had performed and it continues to keep its head above water against the US dollar, 4.8% up since June. Bitcoin on the other hand, after a slow start has started to motor, 42% up against the USD since we began the race.
Scarf Lady is doing everything in her power to compete, she gives a speech every two days. She has a staff of thousands helping her. She has access to the resources of every central bank in Europe and if she wants to, she can and does print money to help the cause.
Infinite resources, yet she cannot keep up with some computer code that has no staff and no resources of its own.
---