The dog ate my homework
"The trouble with excuses is that they become inevitably difficult to believe after they've been used a couple of times."
The pressure on US regulators to sign off a Bitcoin ETF is growing. In Canada, Purpose Investment's ETF raised $0.5 billion in two days. It crossed $1 billion in its first two weeks.The demand from investors is undeniable and the SEC is beginning to look foolish, since it is forcing US investors into inferior products which is absolutely the opposite of its role. Their best option is to pay 2% with Grayscale, sometimes suffering premiums or deficits on the share price against the bitcoin price. It is hugely inefficient and disadvantageous to investors.
The full list of bitcoin ETF applicants (past and present) is here.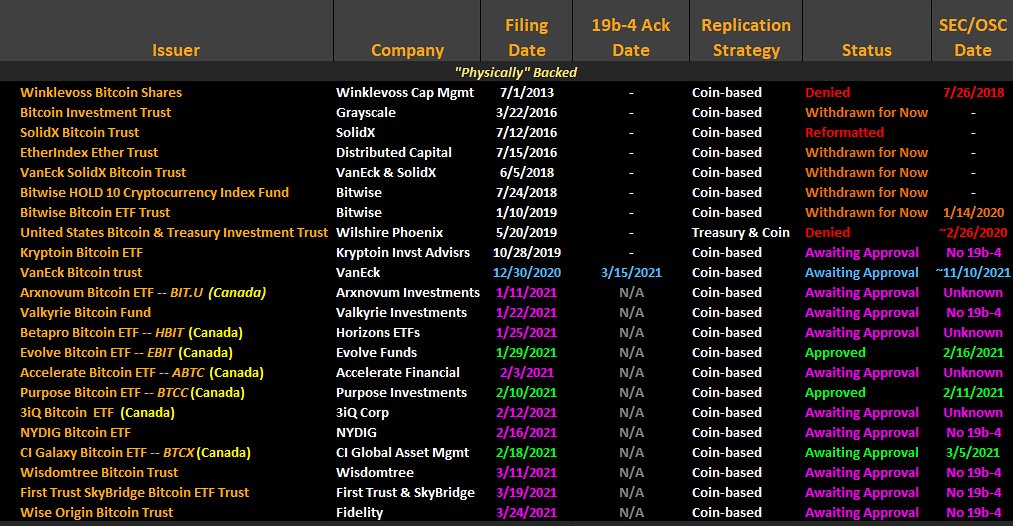 All the way back to 2013.
You can see the most recent shifts though. In Canada, two ETFs now approved and one pending. The Americans do not like capital outflows, or competition for that matter, and this fact alone will concentrate minds.
Last on the list, 24 March 2021, Fidelity. The world's fourth largest fund manager. $5 trillion under management. When Fidelity calls the SEC to say 'hello', I'm betting the SEC answers. Fidelity will want to know what the excuse is this time. It better be a good one.
---
Turkey votes for Christmas
Not a great week for the Turkish Lira, which kicked off the week by dropping 15%. The problem stemmed from the sacking of the central bank governor, Naci Agbal, who had made a solid attempt at slowing inflation. So solid in fact, that he increased interest rates to nearly 20%. His five months stint coincides with a strong recovery in the Turkish Lira. Almost all of that now undone.
It is a straightforward lesson. When inflation comes, the cost of fighting it is horribly high and deeply unpopular. Politicians, like President Erdogan (if he can be called one), simply cannot stomach it. Far better in fact to intervene before it is too late, but that isn't going to happen and what is being visited on the Turks is coming to us all.
Not a member of the EU, a long way from America, not really friends with China and certainly not friendly with its neighbours. Yet historically, what happens in Turkey has a funny habit of being significant.
---
CBDC
In the next five years there will be an absolute explosion in the issuance of Central Bank Digital Currencies (CBDC). I have explained before that I believe currencies are mostly digital in any event, and they are supplemented to a small degree by physical cash.
There is a huge advantage in CBDCs for issuers in that they will be able to absolutely control every aspect of their currency. For example, if you use your money for nefarious purposes, it can simply be cancelled. Don't pay tax, it will simply be removed and reallocated from your account. Controlling money is very, very important when you are looking to control a nation. An idea not lost on the early Rothchilds.
"Permit me to issue and control the money of a nation, and I care not who makes its laws. Mayer Anselm Rothschild, 1790" 
So it was no real surprise to hear the head of the Bank for International Settlements make similar remarks.
"the key difference with the CBDC is the Central Bank will have absolute control on the rules and regulations that dictate the use of that expression of central bank liability and also we will have the technology to enforce that. Those two issues are extremely important and will make a big difference to what cash is"
He is right, technology has weakened money. Bitcoin in particular has revealed the great fraud of fiat currency. All of them have lost 99% of their value against bitcoin. The fight back will start with CBDC's which it will be claimed do all the things bitcoin does but "so much better" and "without the wasteful energy consumption".CBDCs will give absolute control to governments and central banks and from their perspective that is probably right, and good. It will also reveal to people exactly what fiat currencies are, simply a way to inflate away government debt while providing a mechanism to collect and pay tax.  Other than for doing that, you are far better off holding almost anything else.
---
The metaverse
A virtual-reality space in which users can interact with a computer-generated environment and other users.
For some people the concept of the metaverse is rather too abstract to grasp. Sometimes video games are described as the metaverse but perhaps that is not a full explanation. To qualify you must interact in a human way. So perhaps you play a video game, your friend plays the same game, you recognise your friend in the game, you say hello by typing (or speaking) "hello friend".
Welcome to the metaverse.
Video games themselves are now the number one form of entertainment, by far. The metaverse within those games is growing also, in particular incorporating worlds that have their own currencies and economies.
Sandbox is one such game. It hosts its own economy; you can buy land and a myriad of other trinkets. Naturally it has its own currency, SAND. Another is Decentraland, same theory, and with its own currency MANA.
Whether either of these is successful remains to be seen and isn't really the point. They are economic experiments. Running such experiments in the real world is incredibly expensive to do. Central bank efforts at digital currencies are a great example. It takes them years and years and billions and billions to even begin to try things that are happening at scale in the metaverse. Most of them won't work but they will use private capital and solve a lot of problems at a fraction of the cost of similar experiments in the public sector.
Perhaps my favourite example so far though is from bitcoinbountyhunt. Simplicity here is the key. You can join the ecosystem as a player or an advertiser. Advertisers sponsor bounties on players and players collect them for shooting other players, it's that simple.
There are several advantages here, players are getting paid to play, so the sinister creep of additional fees and spending inside a game does not exist. Advertisers are popular and encouraged, the more the merrier so players do not resent seeing them because they know they are paying.
The fees players earn also stream to them instantly on the bitcoin lightning network, so you are irreversibly paid within seconds of shooting another player. It's a great model requiring no interaction with traditional payment systems or currencies.
Let's make a wild prediction: the economy in the metaverse will be larger than the economy outside of it in one generation and almost nobody knows what it is yet. Follow closely because it's happening.
---
Euro-trash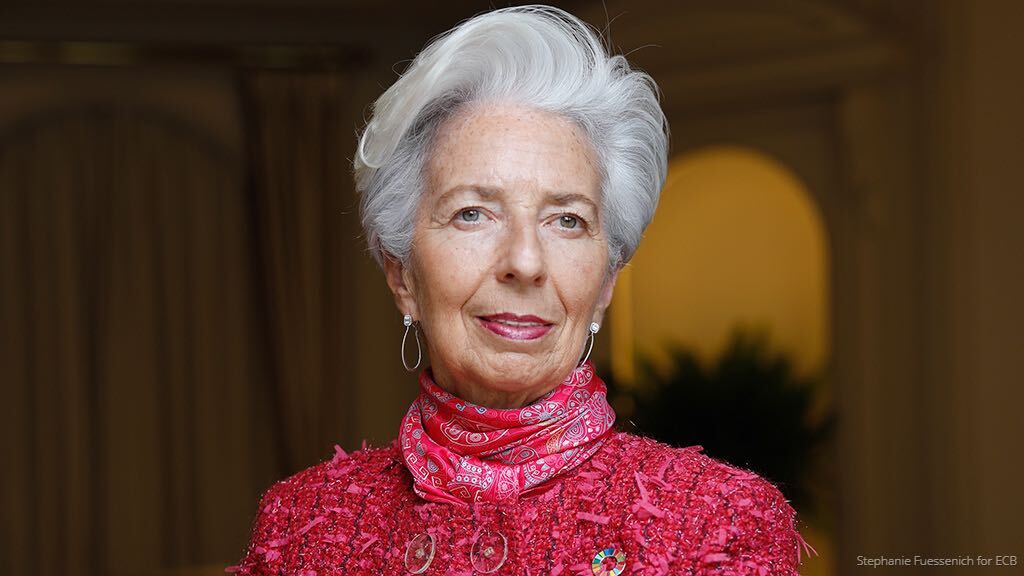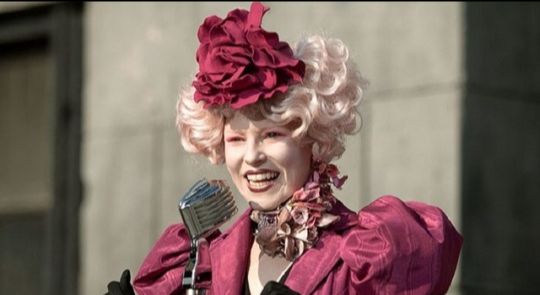 This week Queen Christine posed for an official ECB photo. Noting the failing morale of the European people as Paris and Germany fell into another lockdown, she did not disappoint. She does look amazing, and I know my friends in Europe have been greatly cheered by these lifting images.
Then we have Effie Trinket of the Hunger Games. Effie's role was to guide her charges through the challenges of the Hunger Games, in which most participants died. She was nonetheless endlessly cheerful in this task and would say or do anything to keep everyone going. Including continual beauty parades, victory parades and rousing speeches that kept the participants engaged and believing.
You might think the comparison is a bit harsh, a bit of a stretch? I don't. The hardest part is to step outside of the machine and try and work out what is going on. You cannot have a vibrant economy when the central bank is such a massive participant. The proof of the pudding is the vaccination roll out in Europe. Initially this was to be led by individual countries in the EU, that was until the EU decided it would be better managed centrally. They believed they could negotiate better terms with vaccine producers by doing it at the EU level and guess what. Having never done it before they made a mess of it. The 'watertight' contracts they negotiated weren't watertight because they were up against people who had done it before. Now Europe lags the world in rolling out the vaccine, they block exports to other countries, they have raided the offices of Astra Zeneca to try and prove fault. The fault lies with them.
As a European, it is painful for me to watch the continents decline. I do not believe in Christine Lagarde. I do not believe that massive political organisations like the EU can ever deliver good results with anything approaching efficiency. They always fail. Always. The EU and the Euro will fail too but not before the futures of the European people are sacrificed at the altar of "whatever it takes".
That is the major reason why we want to invest in things that sit outside the purview, or more specifically the imagination, of people that control this system.
As Effie says:
"Happy Hunger Games! And may the odds be ever in your favor!"
---