Grayscale
This is what it hitting it out of the park looks like.
Grayscale now has $22 billion under management in their cryptocurrency funds, up from $2 billion 12 months ago. Can they get to $100 billion? I think so, faster than people think too.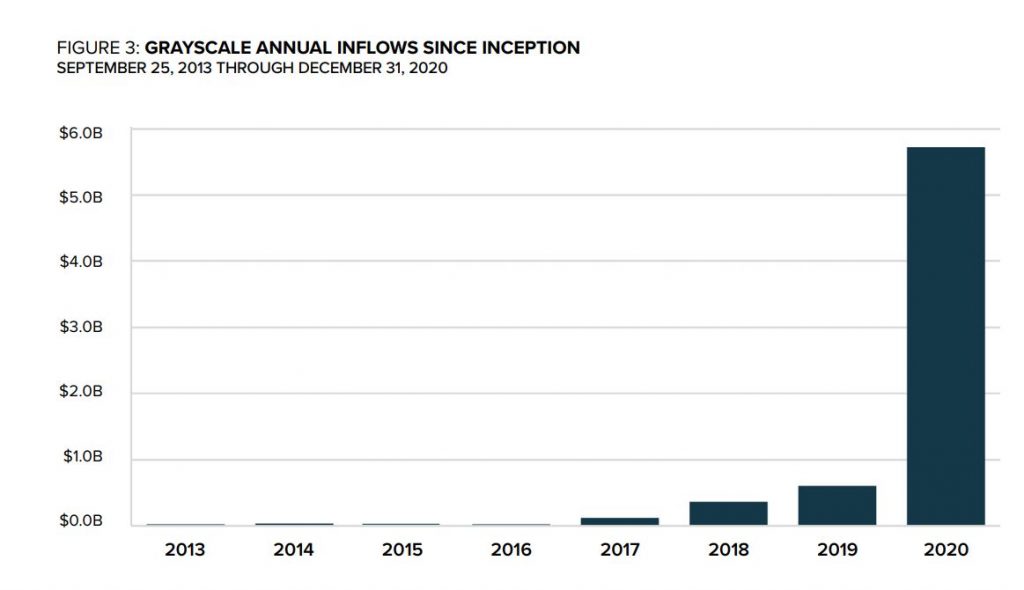 Even more compelling is the nature of the investors. In 2017 it was very clearly retail investors buying bitcoin. In 2020 it is overwhelmingly institutions. We could see this from chain analysis which showed that a lot of large activity is being taken off exchanges and held in cold storage. Grayscale has now confirmed it in absolute terms, with 93% of their inflows being institutional.
Finally, the pace of Grayscale bitcoin buying shows no sign of slowing. The fund reopened for investment this week and immediately beat its own record for single day fund raising bringing in $700 million in one day.
Bybt.com
track daily bitcoin buys for Grayscale. The flat line from December 17th is the Christmas closure, on reopening Grayscale have set new records every day.
On Monday this week they bought 16,244 bitcoins. 18 times the daily mining supply. That's one fund manager. We have no idea how much Coinbase, PayPal, Square are consuming.
---
Relief is here 
Thank goodness. Having spent a few months saying how much I thought the Biden administration would spend if they got elected, they look like delivering on my spending promises.
$1.9 trillion of spending to get us started under the banner "The America Rescue Plan". I have to say, that's a bit of a negative tagline and a small child could have done better. Perhaps "Money will fall from the sky" or "Get your free stuff here" would have been more enthusing for the populace.
The instructions were clearly to "spend less than $2 trillion", perhaps because it sounds better. Exactly the same thing happened in December with the $900 billion relief plan. A number very clearly less than $1 billion. The smoke and mirrors of number play works just as well with a record setting stimulus plans as it does with a 99 cent ice cream.
To the detail:
Topping up December's $600 giveaway with another $1,400
Increasing federal unemployment benefit to $400 per week
Increasing the minimum wage to $15/hour (almost doubling it)
Extending the eviction moratorium
$350 billion in state and local government aid
$10,000 in student debt forgiveness
Lots of other pet projects.
The stand out here is the increase in the minimum wage because this will never be repealed. Doubling it is very significant but in terms of other countries it is still less than Australia's minimum wage US$20/hour (the highest in the world) but more than the UK's US$12/hour.
Biden had this to say, it reads like a joke but he was serious:
"The consensus among leading economists is, we simply cannot afford not to do what I'm proposing"
Very modest, Joe. I'm pretty sure the kitchen hands of America would question whether their giving $10,000 to Harvard graduates is something they "simply cannot afford to do". Fairly certain it is something they can quite easily afford.
In even more exciting news, Biden also announced that his long term stimulus plan would be released in February.  That one will deal with infrastructure spending, climate change and racial inequality.
$1.9 trillion and we haven't even got to the soup course. Stand by.
---
Secretary Yellen
Janet Yellen began her confirmation hearings in the Senate this week for her role as Treasury Secretary. She stayed mostly on script:
We need to "spend big" to get out of recession
Interest rates will remain low for a "very long time"
Bitcoin is bad because of terrorist financing (which must make the USD really bad)
The best was saved for last though. When asked if she had a conflict of interest because of her dealings with commercial banks since leaving the Fed, she answered "I do not".  I'm pretty sure that she meant to say "Yes, I absolutely do because I've been lining my pockets with money from those fools since the day I left". Perhaps the record will be corrected later. Here is her list of speaking fees since leaving.
Fear not. I have added them up for you. It's $7.1 million inside two years. That is a lot of money for someone who has only ever been an academic. According to google, it's half her net worth, but she is absolutely
not
conflicted in any way, so we can put that thought to bed right now.
I bet questions are being asked at Credit Suisse too, coming in with the highest fee of $292,500 when Citibank got away with $17,100 a few months later.
The bottom line is that Janet Yellen is an absolutely awful public speaker. She is so boring and so heavily politicised she can't afford to say anything remotely interesting. So why did these firms pay so much money to have her talk for an hour?
---
Risk Free
Given the definition, let's work out the answer for a two year investment.
The 2 year US treasury yields 0.14%
The inflation rate in the is 1.2% (at December 2020)
Risk Free Rate: 0.14% – 1.2% = –1.06%
You may believe that this is too simplistic and valuation models are far more sophisticated than this, but they are not. At their core, the number one thing driving "valuation" is the risk free rate against which all other returns are measured. The number one risk free rate is the United States two year treasury yield.
That rate, or near derivations of it, are included in nearly every financial model in the world.
If you feel like something is wrong and that valuations of equities are a little bit high. Look no further, the issue is the bond yield. Based on that yield stocks are currently massively undervalued. It is complete nonsense that this is true, even though intuitively we know that it is false.
The stock market is likely telling us that bond prices are wrong, not the other way around.
---
Euro-trash

Great news this week from our favourite central banker. A new spin doctor has been appointed. The "Director General of Communications" has been appointed to explain:
"how we are working together to protect the euro's purchasing power"
At the last count the Euro had lost 65% of its value against bitcoin in the last 6 months and 99% of its value in the last 10 years.
I very much look forward to Wolfgang's explanations. Please join me in welcoming Wolfgang to the team and do say hello if you see him in the corridor.
---