Risk Free
Here's an interesting trade for you from Bloomberg. December bitcoin futures were trading at a $5,000 premium to the spot price last week. All you had to do to make the 8% annualised return was go long spot bitcoin and short the December future. Sit tight for a few months and collect. Indeed, there are a number of groups doing exactly this.
This sort of premium isn't unusual in commodity futures as there are a number of reasons that the futures price might differ, like storage and delivery costs or simple seasonality that the spot holder must bear and the futures purchaser pays for. We saw last year these costs are real and meaningful when the oil price went negative, reflecting a lack of access to both storage and delivery capability.
The conclusion at Bloomberg was that the premium exists because not enough skilled traders are prepared to engage in the trade at sufficient volume to arb away the difference. Reasons include counterparty risk, execution risk, mandate restrictions and a general lack of engagement from the larger market participants.
I am less than compelled by this reasoning. Perhaps there is another explanation. At the rate of increase in USD in circulation, is it possible that the market believes that there will be 8% more USD in issuance by December than there are now? If you actually execute this trade you will need to settle your December short with your spot bitcoin, likely ending up with just your profit in USD and no bitcoin. Does the market believe the better trade is simply to hold the bitcoin? I certainly do.Said another way, the futures premium may be reflecting the fact that bitcoin is scarce relative to the unit of measurement of the futures market, the USD. It is becoming increasingly ridiculous to measure anything in fiat currency since it is being created so furiously by governments all around the world. For most people, it doesn't show up because exchange rates like EUR-USD look relatively stable since both are debasing at similar rates. However, if you compare it to any other scarce asset you can see what's happening, if you don't believe in bitcoin, use house prices or eggs.
Imagine measuring a wall with a tape measure that grew by 10% while you were doing it. It must surely be the same when looking at long dated futures and using the USD to price them. People just aren't used to assets with a supply curve like bitcoin's.
---
Coinbase listing
The direct listing of Coinbase took place on Wednesday. It landed on a market cap of $86 billion at the close with shares trading $328. This was well up from ther reference price set by the exchange of $250, but down on the daily high.
Coinbase is throwing off cash and profit at quite a rate and while it looks very expensive, it compares favourably to other listings with deep losses and promises for tomorrow. They raised no money from the public in this listing, they don't need it, it was just a listing of existing shares.
The effect on valuations for similar companies was significant. Arguably the world's largest cryptocurrency exchange is Binance. As the second largest constituent of our Managed Fund, it's nice to see some of the value they have built in the last three years being reflected in the token. We have held BNB since mid 2018, buying at US$9, the price touched US$604 this week before pulling back to the mid $500s. Still, a 60x return is good and we fully expect them to be to the rest of the world what Coinbase will be to the US. The beauty of Binance is that very few people outside of the industry have heard of them, so it may well have a fair way to run.
They seem to have the right ingredients, outstanding developers who understand the space, a release cycle of a speed I don't think we have ever seen and brilliant guerilla marketing.
Recall they spent their first 18 months of operation without bank accounts or any formal structure at all. If business schools still exist in five years, the Binance story will be on the curriculum.
For Coinbase, a new chapter begins as a public company. This will propel the whole sector onto the front pages each time they report, sometimes that will be good, other times not so much. The most telling part of this story for me is that despite their massive success, early investors in 2012 have still underperformed bitcoin. It sounds incredible, but the 6000x return that group made on Wednesday is a loss in BTC terms.  All told, they won't be too worried though, and hats of to them.
---
Canadian Bitcoin ETF
The Purpose Canadian Bitcoin ETF set a record in March for 25 consecutive days of inflows. Their AUM reached US$1 billion this week which took them 31 trading days, truly impressive.
It is clear that there is unprecedented demand for scarce assets. Artwork, house prices, commodity prices and bitcoin prices all reflect that anything but cash will do. Clear that is, to everyone but the SEC, who continue to resist a US bitcoin ETF. I suspect they know that the price will absolutely explode upwards if one were to be approved but the Coinbase listing has to make it more likely. Surely if it is acceptable to facilitate the exchange of cryptocurrency between Americans then it is also fine that Americans be able to hold those assets in efficient vehicles.
In the meantime, yet another Bitcoin ETF submission was made to the SEC this week. Now there are eight in the queue. If nothing else, the SEC will know a great deal about bitcoin by the time they have reviewed them all, even if they do reject them.
The pressure has started to tell on Grayscale too, they announced that as soon as they are able, the $40 billion Grayscale Trust will convert to an ETF and "fees will be adjusted accordingly". Downward, one imagines.
For a long time now Grayscale's Bitcoin Trust traded at a steep premium to its NAV, up to 40% in January this year. As soon as the Canadian ETF launched that premium collapsed and Grayscale now trades at an 8% discount to NAV. That falling premium might also tell us something about the likelihood of alternative investment products coming online in the US. More likely than not would be the best summary.
---
Power
One of the latest angles of attack (and probably the best one) for bitcoin haters is the amount of power it consumes. The general theme is "bitcoin uses more energy than Switzerland each year and is boiling the oceans".
We are in the process of addressing these concerns more formally, because we are asked about it a lot by investors. There are a number of key themes that investors should be aware of though.
You would only mine bitcoin with very low-cost and generally surplus energy. For example, unused hydro, converted methane etc. It simply is not profitable to burn fossil fuels and mine bitcoin because the best operators have very low-cost energy, sub 3 cents per KWh. In Australia domestic users pay 20 – 30 cents per KWh. You generally only get the required price with surplus or renewable energy (hence the spikes in mining power in flood season in China when there is surplus hydro).
The largest developments in mining are in stranded energy. So, places where energy is being produced but not going into the grid and is simply wasted. This chart shows the extent of energy waste in the US. Fully 67.5% of energy produce in the US is "rejected".  This happens because it is produced at the wrong time or stranded somewhere off the grid.
Bitcoin is an absolutely brilliant tool for capturing this lost energy because you can mine anywhere, on or off grid.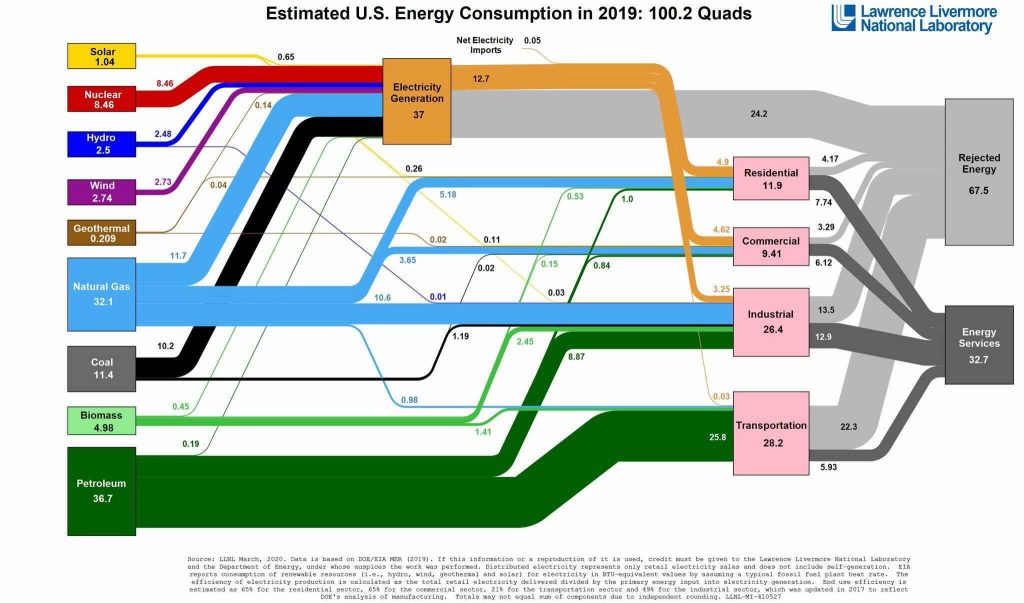 We are likely to see the Bitcoin network become a widely used balancing tool for power consumption. We have seen exactly that kind of thing in Texas where LayerOne mine bitcoin off peak, then on hot days where air conditioning demand peaks they switch off to release load, exactly as they did during the Texas power crisis recently.
You can also look to upstreamdata in North America who use stranded energy to mine bitcoin. Here is one of their latest installations, taking methane that is otherwise flared into the atmosphere and converting it to bitcoin.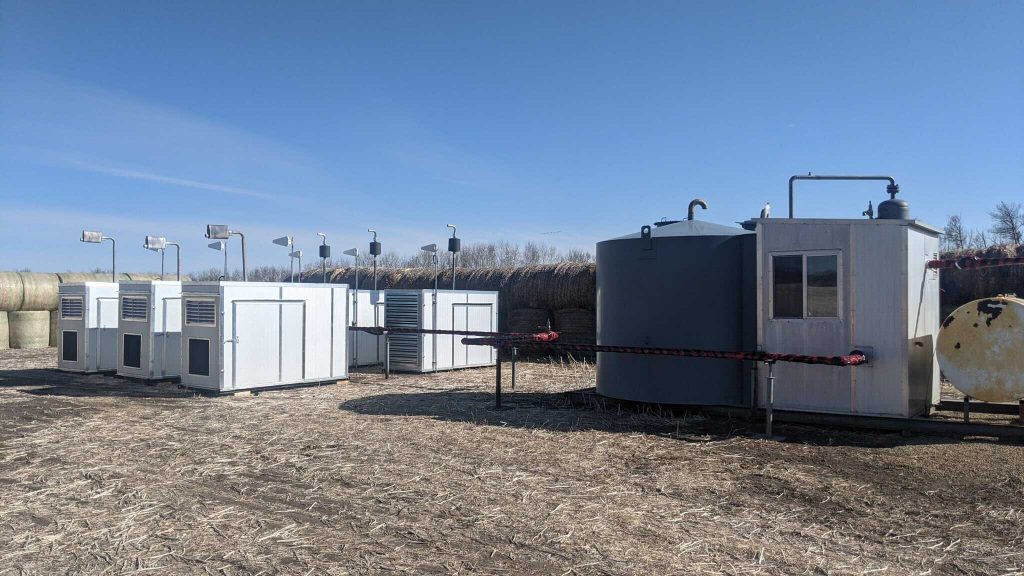 If you are looking for the next big thing in this sector, the symbiosis of bitcoin and power is likely to be one of them. These businesses are still small, but they are growing and bringing real change to old industries like gas and oil mining. The founder of Upstream Data has been an absolute champion in building this business for the last 4 years. It's good to see things going so well for him and as he says, it's about to get real.
---
Euro-Trash
ECB Board Member Isabel Schnabel was out bitcoin bashing this week. You might recall her joining the Board last year after a long and successful career involving never having a real job.
Anyway, some of what she says is true.
Speculative: Yes. It is, but it actually has very high upside potential, the Euro has no upside.
No recognisable fundamental value: not correct. There is an absolute and calculable cost to the production of bitcoin. Euros can be printed for nothing, and they are.
Subject to massive price swings: Yes. So is the Euro though, since it is on the other side of the price of bitcoin and has managed to "swing" downward 99% against bitcoin, which it will keep doing.
Causing disruption in financial markets: Yes, but I doubt you have seen anything yet, Isabel. What will fail first, trust in cryptography or trust in the ECB?
Interestingly, Isabel once wrote an
economic paper
"The Twin German Crisis of 1931". Here is the Abstract
Using information on banks' balance sheets, I analyze the causal links between the banking and currency problems in the German crisis of 1931. I find that the crisis had two independent causes: Political shocks triggered a run on the Reichsmark; and the excessive risk-taking by banks that were "too big to fail" led to a run on banks. Due to the high level of foreign debt in the banking system, the run on the currency and the deposit withdrawals reinforced each other in a vicious circle and resulted in a banking panic and the abandonment of the gold standard.
No comment.
---